O
r
a
l
P
r
e
m
a
l
i
g
n
a
n
t
l
e
s
i
o
n
a
n
d
O
S
M
F
Oral premalignant lesions, technically speaking encompasses a term for pathologies or lesions that are described as having more chances of transforming into a cancer. In other words, the oral premalignant lesions are the precursors for oral cancer. Since they are so subtle in nature, they can be easily overlooked in its initial stages. Oral cancer is one of the leading cancer in India, both in males and females. Staging of oral cancer directly implies the chances of survival at the time of detection. Hence, a patient in whom cancer that is detected in earlier stage, is more likely to have a longer survival chance as compared to patient who suffered with cancer in its advanced or late stage.
O
r
a
l
P
r
e
m
a
l
i
g
n
a
n
t
l
e
s
i
o
n
a
n
d
O
S
M
F
The word 'cancer' is devastating for any patient and has lifelong consequences. Even though mortality associated with cancer has reduced in last few decades with advancement in radiation, chemotherapy and surgical treatment, the associated complications and risk of recurrences has some serious debilitating consequences. It is widely accepted that the best form of tackling cancer is its prevention. Hence, at the 1st sign of any suspicion, the patient should consult their dentist or doctor to rule out any oral premalignancy.
Tobacco consumption has widely been acknowledged as the primary or leading cause for the oral cancer. But absence of tobacco consumption does not rule out chances of cancer in an individual. It's best remembered as '5 S' which are considered causative agents for oral cancer other than tobacco – smoking, spirit (alcohol), spice, sharp tooth, syphilis (infection). Any of these agents can lead to formation of Oral premalignant lesion as well.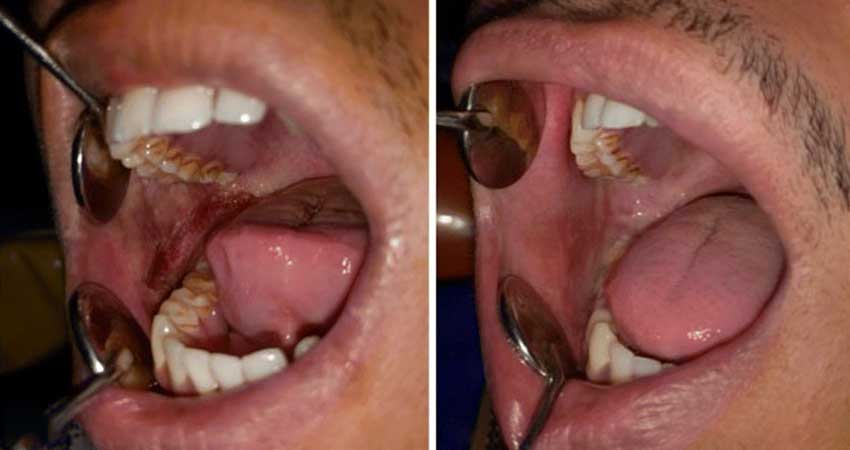 These lesions can appear as whitish patches (leukoplakia) or reddish patches (erythroplakia) or mix of white and reddish patches (Erythroplakia). Sometimes they can even appear as small ulcerative lesion or a nodular growth. Another entity known as Oral submucous fibrosis (OSMF) is also considered a premalignant condition which is widely prevalent. The most common causative agent for OSMF is arecanut or 'supari' consumption which by certain chemical reactions cause thickening of the otherwise pliable oral mucosa. As a result, there is stiffening of the cheek muscles, tongue, gums and other oral cavity tissues, all of which lead to progressive decrease in mouth opening.
O
r
a
l
P
r
e
m
a
l
i
g
n
a
n
t
l
e
s
i
o
n
a
n
d
O
S
M
F
Initial symptoms for any of these condition can be burning sensation of the oral cavity or bleeding from the lesion. The patient generally complains of inability to tolerate hot and spicy food. In patients with OSMF, the mouth opening gradually starts to reduce, the patient also finds it difficult to move his tongue and complains of lack of any taste sensation while consuming any food. If left untreated, it progresses very rapidly and the mouth opening can be reduce to as low as 1 finger breadth and finally transforms into a full blown oral cancer. OSMF, by itself is a lifelong debilitating condition, whereby the patient finds some changes in his oral cavity even after all the possible treatment options are carried out.
Dr. Anurag Bhargava is well trained to diagnose any of these conditions at its very early stage. We understand how mentally challenging it is for any patient to be diagnosed with any form of cancer. We also emphasize to our patient about early detection and appropriate management, hence, we encourage them to be vigilant about any of the suspicious lesion in the oral cavity.
O
r
a
l
P
r
e
m
a
l
i
g
n
a
n
t
l
e
s
i
o
n
a
n
d
O
S
M
F
As part of management, we do a thorough examination of the oral cavity and if required we run some additional tests to rule out any premalignant lesion or cancer. Not all premalignant lesions require surgical management because some of the earlier indolent lesions can be managed by certain lifestyle modifications along with supportive medications. We also emphasize to our patient about the need for oral hygiene maintenance to minimize the risk of cancer development. Above all, we do a proper counselling to each and every patient about habit cessation, diet modification and lifestyle changes which helps to reduce the risk of cancer.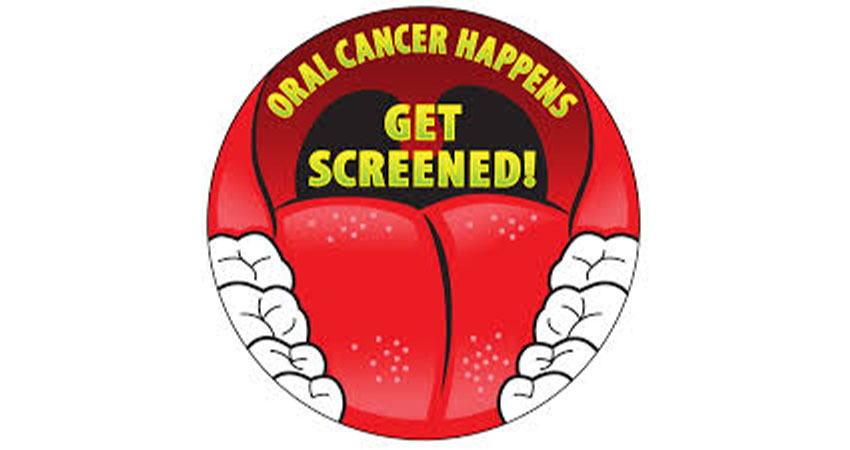 As and when required, we also render surgical treatment for these premalignant lesions, thereby minimizing its progression to an advanced stage. The treatment for OSMF is much different from the treatment for other premalignant lesions. In its earlier stages, we try and manage these condition by injecting certain medications into the oral cavity which helps to reduce the stiffness of these muscles. However, in its more advanced stage, we carry out surgical treatment to release the stiff bands and reconstruct the oral cavity so that proper mouth opening is achieved. This is followed by strict physiotherapy regimen which helps improve the mouth opening. Needless to say, patients with OSMF are also reinforced about the need to stop the harmful habits, failing which all these treatment options prove futile.
Oral cancer has been a menace in the 21st century in developing countries like India and requires medical expert management. However, as mentioned earlier the best way to treat oral cancer is to prevent it by looking for the earlier signs which indicate the cancer formation. We are trained and equipped with facilities to manage such conditions and thereby reduce the burden of cancer on the society.

Your treatment plan is designed for steady progress, with every phase promptly implemented.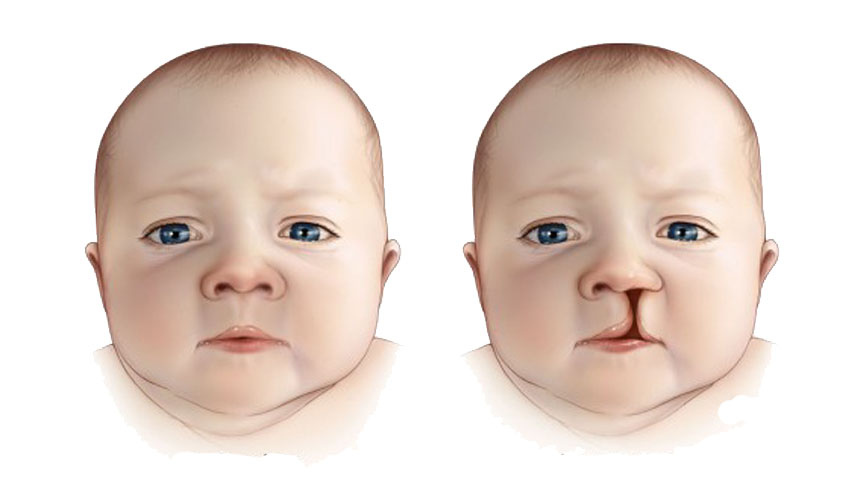 Clefts of the upper lip and palate are the most common major congenital...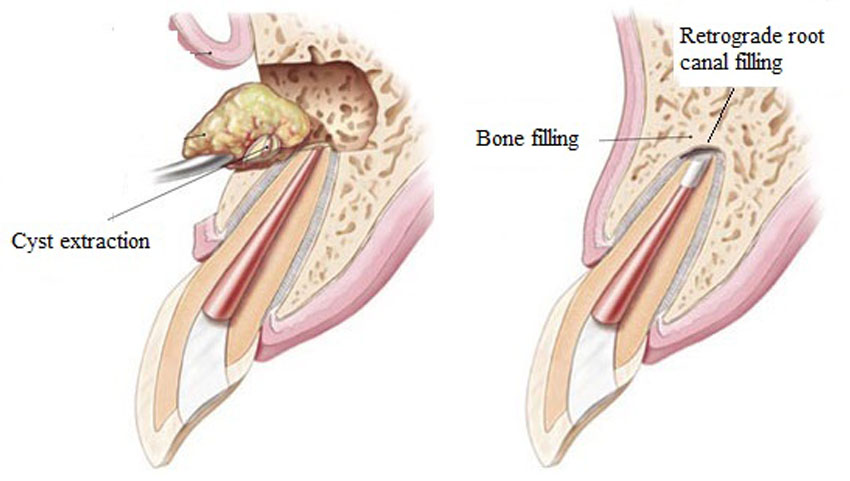 Cystic lesions of the jaws are common pathologic lesions. This group of lesions...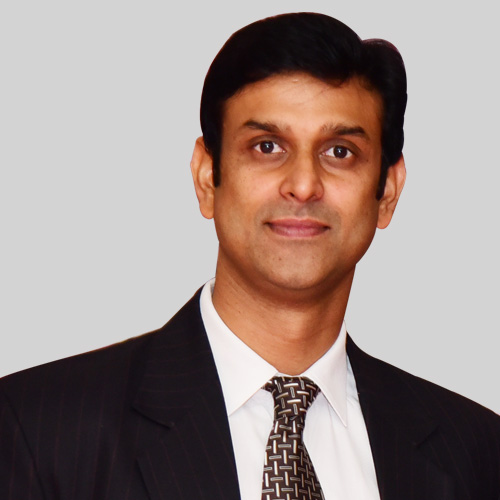 I got a three molars removed from Dr Anurag Bhargav. The surgery was performed in around 30-40 minutes for all the molars. The surgery was performed really well and I had a good experience. After the surgery, I experienced pain for around a week, but the painkillers prescribed really helped. I was satisfied with the quality of surgery and the medical staff at the clinic were also very courteous. They followed up a couple of days after the surgery to take feedback and remind me of the steps needed to heal faster. Overall, I would recommend Dr Anurag Bhargav for teeth extraction. Thank you.

Aayushi Jain


Mar 18, 2020

Hello, My name is Archana Shukla. I am resident of Indore . I had problem regarding my teeth and then I took treatment from Dr. Anurag Bhargava . He suggested me for implant. And now my problem has been cured . The treatment was really good with a very caring atmosphere. I am really grateful for my experience over there. Thank you ..

Archana Shukla


Mar 17, 2020

I had some issues with my teeth and visited Dr. Anurag for consultation. My main issue was addressed by RC & Crowing of 2 teeth. Overall Staff who manages everything from Patient interaction to the ones who are directly involved in treatment is doing good Job. My overall experience has been great. I would definitely recommend the place if you have any Dental or Oral issues.

Jitendra Jeswani


Jan 27, 2020

Dr. Anurag Bhargav is very nice doctor and excellent person as well. My wife is under his treatment, she is very much satisfied with treatment. A doctor must have good behavior with treatment experience, Dr. Anurag Bhargav has this trait. He is flexible in time, moral boosting.

anil ojha


Jan 11, 2020