Dental implants are artificial tooth same in shape as your natural teeth. Dental implants enhances your look with a beautiful smile. They help you to become confident and enjoy your everyday activities. A screw is placed in your jawbone connecting with your natural bone. This provides a strong base to the artificial teeth called crown.
Dental implants have been in practice successfully for almost 30 years. These are the strongest tool accessible to hold up substitute teeth. In addition to this, they make these new artificial teeth feel and appear normal. These crowns are made to match your natural teeth and fix them in your mouth. To hold and support your crown a conjugate called abutment is placed on top of the dental implant.
A dental implant is a surgical fixture that is mounted into the jawbone and enables one to combine with the bone over a period of time. The dental implant functions as a substitute for the root of a missing tooth. Thus, the artificial tooth acts as a replacement tooth. The implanted tooth works independently similar to a natural tooth with great stability without influencing the adjacent teeth.
"Osseointegration" is a process of amalgamation between the dental implant and jawbone. The dental implants are usually made up of titanium joining with bone without being taken as a foreign object in our body. With the advancement in science and technology, the success rate of dental implants is very high.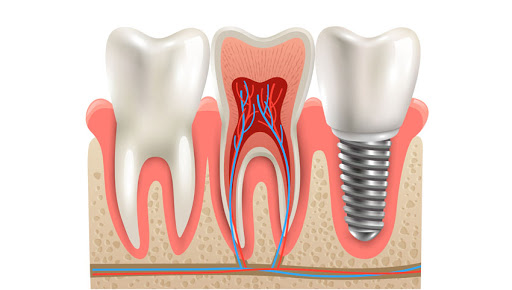 There are majorly three types of dental implants. Endosteal is the safest and widely used type of dental implant followed by subperiosteal and then zygomatic which are complicated.
Endosteal (in the bone)
These dental implants are made of titanium and shaped like small screws. These dental implants are established in the jaw bone.
Subperiosteal (on the bone)
This type of implant may be used in patients who do not have adequate healthy natural jawbone or do not wish to go for a bone augmentation treatment to rebuild it. These dental implants are established under the gum and on or above the jawbone.
Zygomatic (in the cheek bone)
It is a complicated procedure and only used when one doesn't have enough jawbone for the endosteal implant. This type of implant is done in the patient's cheekbone rather than jawbone.
There are several methods used to rebuild bone in case your jawbone is not able to support dental implants. These techniques retain your natural jawline and give a strong foundation for implant-supported teeth. These include:
 

Bone augmentation: This is the technique used for restoring or regenerating bone in your jaw when it is not able to support implant otherwise.

 

Sinus Lift: In this technique, bone is added below the sinus in cases where the natural bone has deteriorated because of missing upper back teeth. It is called sinus augmentation or sinus upliftment.
Ridge expansion:  It is a technique in which bone graft material can be added to a small ridge or space made along the top of your view if your jaw is too small to support dental implants.
The 3D Imaging and treatment planning technique is a fast technique for predictions and dental implant procedures. It helps to save time and money and reduces recovery time. This technique helps in analyzing the anatomy of the jaw and determine the best place for the implant before surgery. 
It gives a better appearance to your teeth.

Dental implants appear and feel like original teeth.

They are made to combine with bone and are long-lasting.

Dental implants help the person to speak properly.

They provide you all the comfort without giving you the feel of artificial teeth.

Dental implants help you to chew your food without pain.

They help to build your confidence and self-esteem.

They help to restore long term oral health.

Dental implants are convenient as they do not need any removal of dentures, thus are permanent in nature. 
From
no
teeth
to
all
teeth
in
just
72
hours
–
only
possible
with
The dental implant occurs in multiple stages. It is now also possible to get a replacement for your missing or damaged teeth in 72 hours with Dr. Anurag Bhargava, the best dental surgeon of Indore. The removal of damaged teeth includes giving anesthesia as one of the steps of procedure. If the damaged or injured tooth is still in your mouth, the dentist will have to remove it. If your jaw doesn't have sufficient bone to support implants then you may need a bone graft. The patient with failing dentition can also receive teeth immediately after extraction followed by implant placement & then fixed teeth on 3rd day, for such case our preference is sanitary hybrid prosthesis.
The traditional process of dental implants may go from weeks to months. The dentists mount the dental implant into your jaw. It is attached to the bone to give the maximum toughness. After that, the surgeon will screw the abutment to the implant. When the soft tissue recovers from that, the doctor will make the shape of your teeth and jawbone. Eventually, they will place the dental crown on top of the abutment.

Your treatment plan is designed for steady progress, with every phase promptly implemented.
[wprevpro_usetemplate tid="1"]